First Youth Forum JNC-UNESCO Youth Committee
First Youth Forum JNC-UNESCO Youth Committee (JNC-UNESCO Youth Committee in partnership with The Ministry of National Security and The Department of Government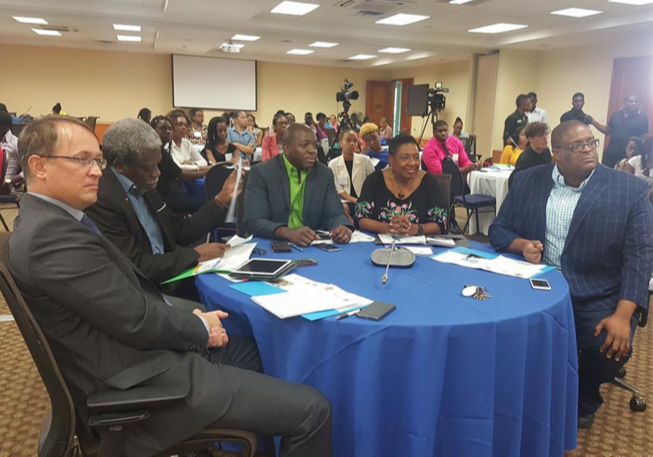 Mr. Yuri Peshkov, the Honourable Olivia Grange, Senator the Hon. Pearnel Charles Jr., Mrs. Mitsy BeaumontDaley and Ms. Mikiela Gonzalez featured in the opening ceremony.
Following this were five (5) sessions that involved a presentation by experts relevant to the issues/topics. In the three panel sessions, youth ambassadors were included as panelists and a youth beneficiary (Ambassador/ Volunteer) of the project were included as moderators.
Session 1: Challenges and Opportunities for Youth The title presentation was by Mrs. Emprezz Golding . Key points were that – youth have the power to change the world; they have the ability to make more informed decisions because of the unlimited internet based resources at their disposal. By utilizing these resources you can change how our leaders think, or become leaders themselves and as a result it will begin to effect change.
Regarding teen pregnancy, Mrs. Golding encouraged females to "Stitch It Up" and practice safer sexual habits as one solution to some of the problems that youth face currently.
Session 2: Citizen Security Key points technology such as the Stay Alert app and programmes such as the Community Safety and Justice Programme are playing in enhancing citizen security. Within the Community Safety & Security branch of the Jamaica Constabulary Force (JCF) a strategy has been designed to understand the minds of youth in 19 communities to influence the attitude that influences the violent behaviour of these individuals and will be launched by year end. Youths were encouraged to "find the care, find the time to connect" and reach out to youth who are troubled so that in the future they can be a part of another initiative like this UNESCO Forum.
Session 3: Citizen Opportunity This session highlighted the importance of empowering youth to use skills and volunteerism as a means to create opportunities for themselves in the Jamaican context.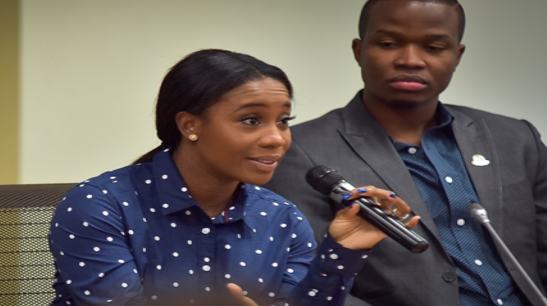 It was noted that persons with disabilities and their realities are often left out of the conversation of skills, empowerment and contributing to the national development. Persons living with disabilities have issues pertaining to access to opportunities.
Session 4 – Citizen Responsibility This session focused on the youth role in policy design and their engagement in knowledge sharing and social innovation. Lack of ideal role models and parenting (empowering single-mother households) were highlighted as root issues affecting youth. It was also suggested by Youth Ambassador panelist Sujae Boswell, that youths should familiarize themselves with policy and position papers and how to write them.