World Radio Day 2019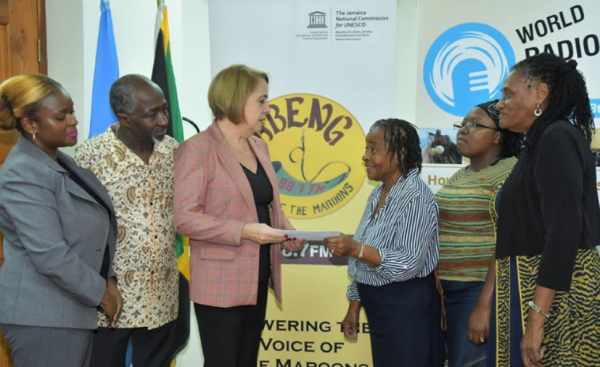 To commemorate World Radio Day 2019 a presentation was made to the Manager of Radio Abeng, 88.7FM, the commuity radio station in Accompong.
The presentation was made at the UNESCO Kingston Cluster Office for the Caribbean to Norma Rowe Edwards (third right). She receives the cheque from Isabel Viera Bermudez, Advisor for Communication and Information at the UNESCO Kingston Cluster Office for the Caribbean to purchase equipment for the station. Items to be purchased include an air conditioning unit, microphones, headphones, a computer and tape recorders among other things. Looking on are: Erika Walker, National Programme Officer, UNESCO Cluster Office for the Caribbean; Lincoln Robinson, Manager, Abeng Radio Committee, Jamaica National Commission for UNESCO; Kaydeen Crosse, Assistant Manager, Abeng 88.7 FM and Dr. Maria Smith, Programme Manager (left to right).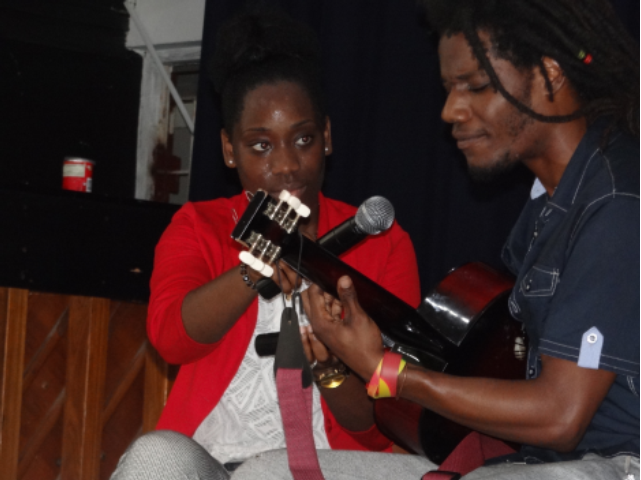 Following this JFUCCA hosted an inter-club activity that highlighted World Radio Day UNESCO Clubs celebrates World Radio Day 2019 at their interclubbing social that took place at St Andrew High, 14 February 2019. Participants included DeCarteret College, May Day High, Holy Trinity High, YWCA and St Andrew High. President Keisha Tomlinson spoke on the UN World Radio Day message and gave the group 3 activities about radio: Frozen radio using only human bodies (2) and a radio talk show. The programme also included drumming (St Andrew High), fashion show, dance, skit (DeCarteret College, May Day High) and featured a guest artist Fy-Aado.