Workshop on the UNESCO Memory of the World Programme was held in Curaçao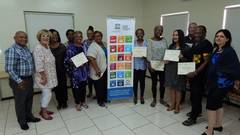 The objective of the workshop, among other, was to review the status of the National Memory of the World in Curaçao, and discuss the national, regional and international Registry of the Memory of the World.
The first Catechism Written in the national language of Curaçao, Papiamentu, was included in the international list in 2009. In 2011, the Archives of the "Dutch West India Company (Westindische Compagnie), which were jointly submitted by Ghana, Suriname, the Netherlands, Brazil, Guyana, Great Britain and the United States of America were registered. Two years later, Suriname and St. Maarten jointly submitted the collected heritage documentary about the slaves of the Dutch Caribbean, Suriname, Curaçao and St. Maarten to the Memory of the World.
The workshop has concentrated as well on the guidelines on how to formalise a committee. The participants included representatives from the Secretary General of the National Commission for UNESCO in Curaçao, the National Library Biblioteka Nashonal Kòrsou, the Fundashon pa Planifikashon di Idioma (FPI) language planning institute, the National Archeological Anthropological Memory Management (NAAM), Mongui Maduro Library, Museo di Kòrsou, Kas di Pal'i Maīshi, Amigunan di Archivo Nashonal, Library and Research Services University of Curaçao. After the two days' Memory of the World workshop, the participants have received a certificate of participation by Yolia Tortolero, the vice president for the Regional Committee for Latin America and the Caribbean (MOWLAC).
The Memory of the World Programme (MoW) is a UNESCO initiative, created in 1992, aimed at preserving the documentary heritage of the world. The memories collected encompass a range of formats such as paper, music, videos, scrolls, art, stone and fabric. The MoW aims to reflect the diversity of the people, cultures and languages as symbol of the collective memory of humanity.