JNC-UNESCO Youth Advisory Committee Receives Grant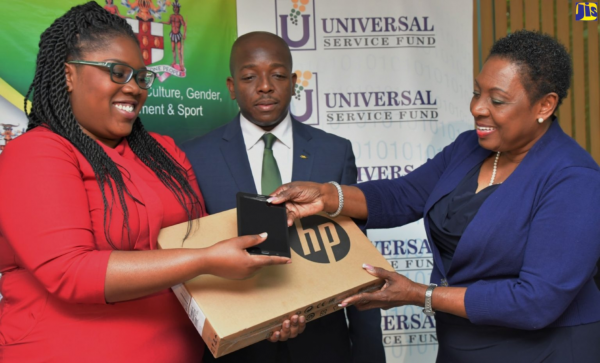 Minister of Culture, Gender, Entertainment and Sport and Chairman of the Jamaica National Commission for UNESCO, the Honourable Olivia Grange, announced that the Youth Advisory Committee of the Jamaica National Commission for UNESCO has received a grant for US$15,000. under the UNESCO Participation Programme.
She made the announcement at a ceremony during which the Universal Service Fund (USF) handed over laptops and tablets to the Committee at the Ministry's Trafalgar Road offices.
The grant was given under UNESCO's Participation Programme that functions as a vital complement to UNESCO's regular activities by analysing, evaluating and facilitating the implementation of national, sub-regional, inter-regional and regional projects submitted by Member States and NGOs directly related to the activities of the organisation.
"Youth is one of the priority areas of the Participation Programme and this grant will equip the Youth Advisory Committee and enhance the work of its programmes," Minister Grange said.
In commenting on the donation from the Universal Service Fund, Minister Grange said that it follows representation at all levels in support of the work of the Youth Advisory Committee Secretariat.
"The Secretariat is moving to implement projects towards empowering youth at risk, including young boys between the ages of 5 and 18 who struggle academically; and teenage mothers who need to be steered towards the programmes of the Women's Centre of Jamaica Foundation," Minister Grange added.
The Women's Centre of Jamaica Foundation was recognised by UNESCO for helping adolescent mothers to continue their education and was awarded US$50,000 to help further its work.