UNESCO Assistant Director-General of Culture (Ernesto Ottone Ramírez) Visits Jamaica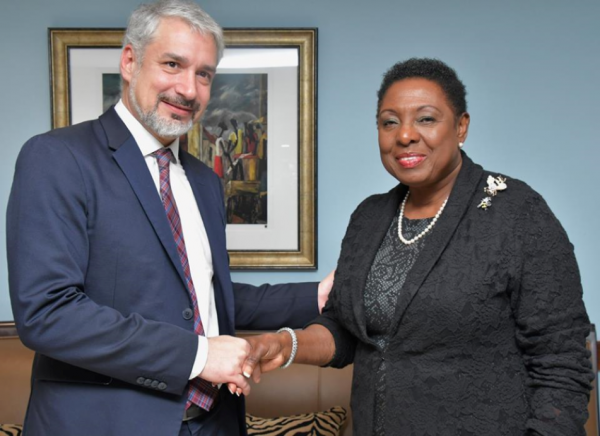 Ernesto Ottone Ramírez, the Assistant Director of Culture at UNESCO, visited Jamaica as Hon. Minister Grange's special guest for the Reggae Gold Awards Ceremony. Mr. Ramírez officially handed over the certificate declaring the inscription of reggae as an intangible cultural heritage by the United Nations Educational, Scientific, and Cultural Organization (UNESCO). to Minister of Culture, Gender, Entertainment and Sport Olivia 'Babsy' Grange, She gifted him with a Prentin Drum specially made by the Maroons of Moore Town.
According to ADG Ramírez, "When Minister Grange informed me last October of the awards ceremony, I didn't question it, I wanted to be part of a significant celebration – that is, 50 years of reggae – in the (Kingston) Creative City of Music, and it was great"
As part of his engagements he visited JNC-UNESCO, where he met with staff and had discussions with members of JNC-UNESCO various advisory committees. He had a bilateral meeting with Hon Minister Grange as well as the Economic Growth Council. He was accompanied by Katherine Grigsby, Director, UNESCO Cluster Office for the Caribbean , Yuri Peshkov, Programme Specialist for Culture, UNESCO Cluster Office for the Caribbean and JNC-UNESCO Secretary General Everton Hannam.