UNEVOC Centre Award 2013 To Heart Trust/NTA
The Heart Trust/NTA was presented with a UNEVOC CENTRE AWARD. The organization has been a proactive UNEVOC Centre in furthering UNESCO goals in Technical and Vocational Education and Training through its programmes which contributed to the development of skilled labour in Jamaica.
The HEART Trust/NTA officially launched its UNEVOC Centre on 28 May 2013. Having been recognized as a Centre in 2007, this official launch, geared towards fostering awareness among internal staff and external stakeholders about the UNEVOC Centre was endorsed by the group of one hundred (100) TVET practitioners who were in attendance. The event was also streamed live to over one thousand, eight hundred (1800) employees of the organization.
Greetings and endorsements were heard from the following key persons:
The key note presenter was Mr. Robert Parua, Act. Director, UNESCO (Kingston Cluster), who ably addressed the gathering on the important role of the UNEVOC Centres regionally and internationally and the impact it can make on economic development as a vehicle for TVET development and integration. Mr. Parua on 'Global Trends and impact on TVET,' in his keynote address stated – "TVET has returned back on the national development and international development agendas of both developed and developing countries. For this reason more research, resource sharing, information and innovation in TVET are been undertaken by all stakeholders from governments, NGOs development or funding agencies as economies become more and more globalized."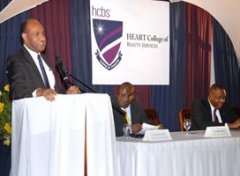 Having clearly delineated the roles of the Centre and its expected impact in the region, the ribbon was cut, unveiling the HEART UNEVOC Centre plaque which was then presented to the Executive Director – HEART TRUST/NTA.
Since then, the number of TVET practitioners who have engaged the e-Forum has increased considerably.
(Source: UNESCO)